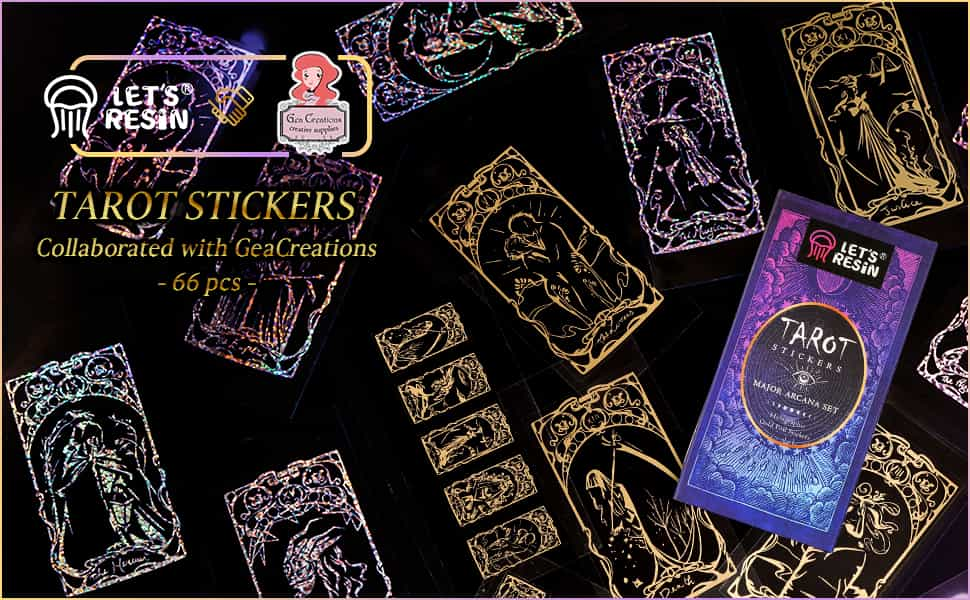 Collaboration with GeaCreations: LET'S RESIN Tarot stickers are originally designed by "GeaCreations". Tarot cards are inspired by the hope to bring something that can please lovers of the esoteric world. By creating a completely different theme for each card. it provides plenty of space for imagination.

Special Materials & Sizes: There are two materials of gold foil and holographic. The gold foil resin sticker has two sizes of 4.33×2.36 inch and 1.57×0.9inch. and the laser sticker is 4.33×2.36 inch. Each type has 22 different mystery tarot cards stickers to choose from for different resin crafts. which are very suitable for your different DIY needs.

Easy to Use: You can directly tear off the transparent tarot stickers and stick them on cards. phone cases. diaries. scrapbooks. laptops. and water bottles. etc. You can also put it in the resin molds. mix the pigment and glitter to make a beautiful gift.

Wide Application: Waterproof tarot stickers can be used for the production and decoration of various surfaces. It is very suitable for crafts. DIY projects. envelopes. gift packaging. photo albums. and decorating laptops and phone cases.

Quality Service: LET'S RESIN attaches great importance to consumer experience and will continue to update and optimize products. If you encounter any problems when using LET'S RESIN products. please contact us in time. We will provide good service and ensure your shopping experience.