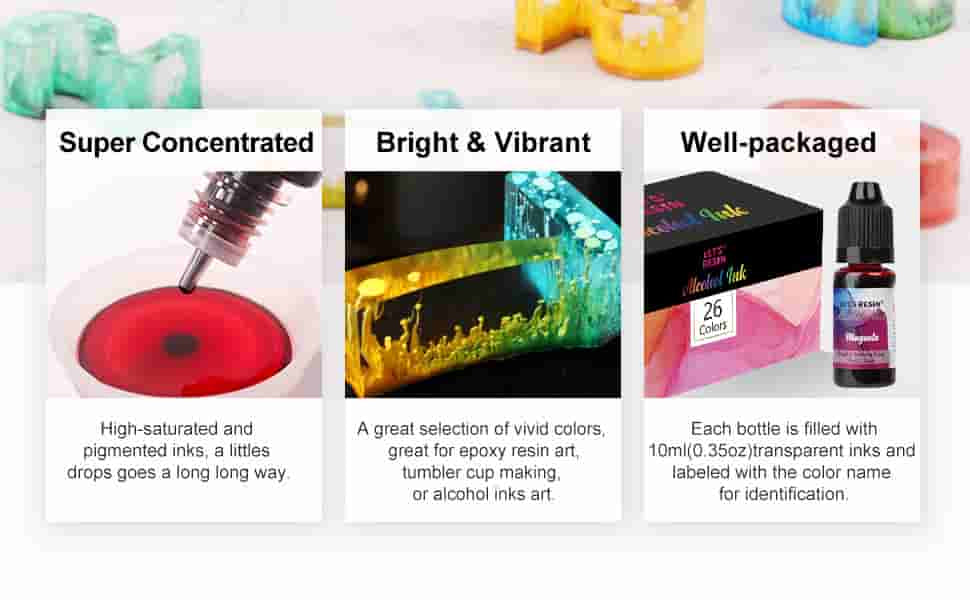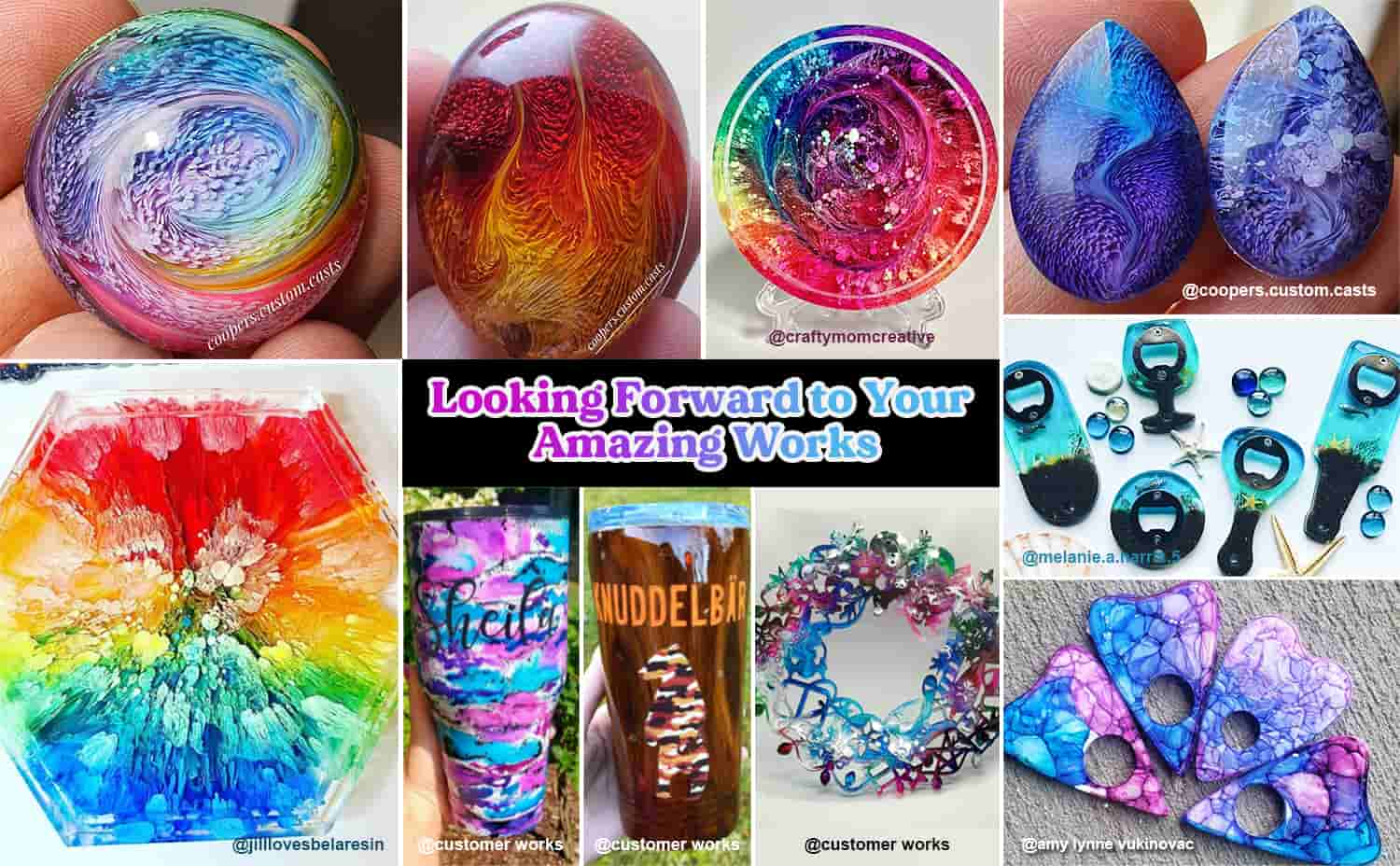 WHAT'S THE SPECIAL: LET'S RESIN Alcohol Ink works a little different from the average alcohol ink. The inks don't spread so much in the resin. which allows you to control the color more precisely and make some amazing effects.

HIGH CONCENTRATION: High concentrated alcohol-based transparent ink. thicker than average alcohol inks. a little can go a long way. You could dilute the inks by mixing with alcohol to achieve lighter colors.

VIBRANT&INTENSE COLORS: A wonderful selection of bright and vivid colors. including black.brown.coffee.blue.sapphire blue.green.purple.purplish red.red.peach red.orange.yellow.lemon yelow.white.magenta. sugilite. azure blue. midnight blue.dark indigo. yellow green. forest green. emerald green.Each bottle contains about 10ml/0.35 oz.

WIDE RANGE OF USE: Suitable for epoxy resin. not for UV resin.; ideal for resin petri dish art. resin painting. tumbler cup making as well as other alcohol ink art. ??ATTENTION: Adding too much inks will affect resin curing. please be pay attention to the amount??

SEALED PACKAGE: These alcohol ink bottles are individually wrapped and the nozzles are completely sealed. They are packed in a beautiful box and it will be a wonderful gift for those who love art craft(ATTENTION: Please be careful of spills when you cut the tips off). If you have any questions about our alcohol inks. please feel free to contact us at any time.
Package Include:
26 bottles alcohol ink with gift box package
1 bottle x Black
1 bottle x Brown
1 bottle x Coffee
1 bottle x Sapphire Blue
1 bottle x Sky Blue
1 bottle x Green
1 bottle x Purple
1 bottle x Purplish Red
1 bottle x Red
1 bottle x Peach Red
1 bottle x Orange
1 bottle x Yellow
1 bottle x Lemon Yellow
1 bottle x Turquoise
1 bottle x Dark Magenta
1 bottle x Cerulean
1 bottle x Magenta
1 bottle x Sugilite
1 bottle x Azure Blue
1 bottle x Midnight Blue
1 bottle x Dark Indigo
1 bottle x YellowGreen
1 bottle x Forest Green
1 bottle x Emerald Green
2bottle X White(deep)