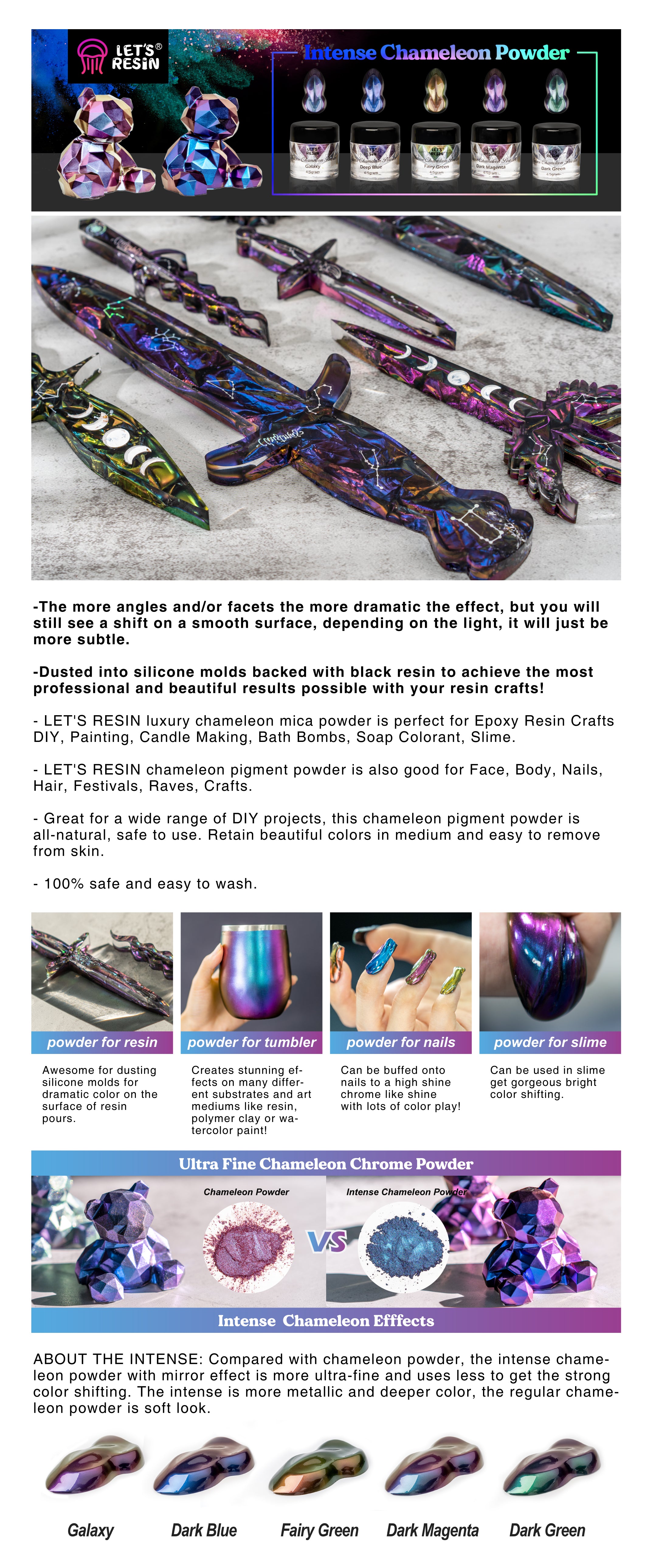 *5 Colors Intense Chameleon Mica Powder: high-quality blue purple green flip chameleon pigment powder. color shifting 10-100uM particle size. each 0.8g. the whole weight is 4g. You'll need just a little muticolor change powder to produce rich and vivid colors. Dark Green. Galaxy. Dark Magenta. Fairy green. Deep Blue.

* Color Shift Mica Powder: Gorgeous bright color shifting. highly saturated mica pigment powder luster that shift intense colors depending on the angle it is viewed. 100% safety and easy to wash.

* Luxury Chameleon Mica Powder for Epoxy Resin: Brush the silicone molds with the chrome pigment powder and then pour the black resin. you will get the professional and beautiful results possible with your resin crafts. The chameleon colors powder is perfect to create a meaningful resin craft as a gift. unique and amazing.

* Widely Application: LET'S RESIN color shift pigment powder is perfect for epoxy resin crafts DIY. tumbler.Painting.Candle Making. Bath Bombs. Soap Colorant. Slime. Mica powder chameleon colors are also good for face. body. nails. hair. festivals. raves. crafts.

*100% QUALITY ASSURANCE: LET'S RESIN Intense Chameleon Powder provides 30-days money-back. If epoxy resin color pigment pearl you received was damaged due to transportation. just contact us. we will provide a full refund or free exchange.
– LET'S RESIN luxury chameleon mica powder is perfect for Epoxy Resin Crafts DIY. Painting.Candle Making. Bath Bombs. Soap Colorant. Slime.
– LET'S RESIN chameleon pigment powder are also good for Face. Body. Nails. Hair. Festivals. Raves. Crafts.
– They give your resin artwork a real wow factor and create a lovely resin colour.
– Smoothly ground into tiny granules. these retain beautiful colors that colorshift in any medium whether mixed with a binder. oil. or pouring medium.
– Great for a wide range of DIY projects. this chameleon pigment powder is all natural. invrionmental-friendly. Retain beautiful colors in medium and easy to remove from skin.
Tips: The shape of the molds you are pouring into will also determine how dramatic the color shifting will be. The more angles and/or facets the more dramatic the effect. but you will still see a shift on a smooth surface. depending on the light. it will just be more subtle.
Package Includes:
5 * intense chameleon powder
1*spoon